Discover more from College Hockey Insider by Mike McMahon
Mike McMahon reacts and analyzes the latest news around college hockey while bringing readers insider notes from sources around the country.
Over 1,000 subscribers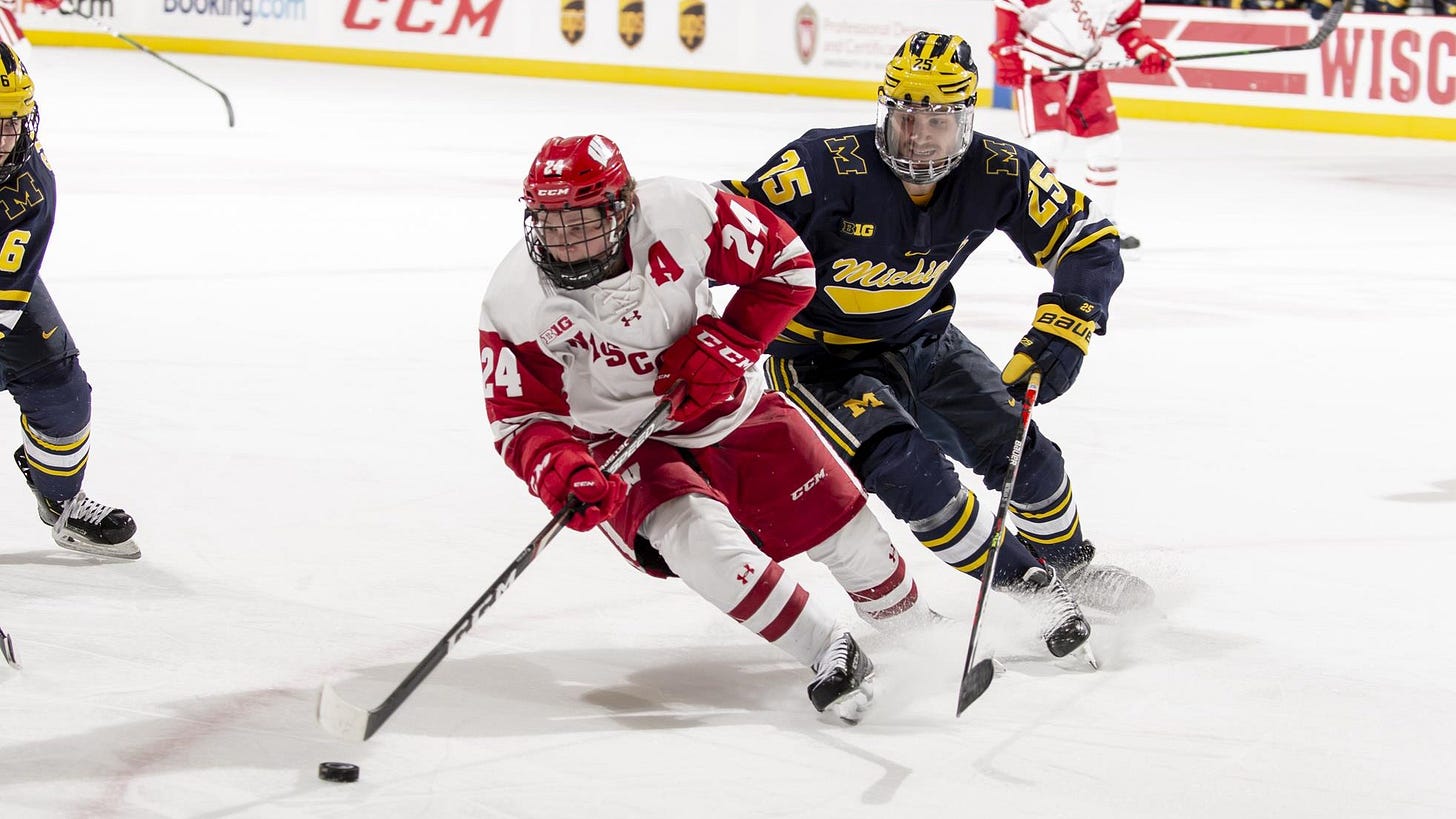 Photo: Wisconsin Athletics
The transfer portal is nothing new to college hockey, and once again this past offseason there were multiple players looking to explore options elsewhere. Grad transfers, who we'll look at specifically here, don't have to sit out and are eligible immediately. Soon, that could be true for every transfer.
Who made my 2020-21 All-Transfer Portal Team? Well, take a look …
F: Sean Dhooghe, Arizona State
Dhooghe had been very productive in his three seasons at Wisconsin, posting 56 points in 102 games (26 goals, 30 assists) in three seasons; he even served as Wisconsin's assistant captain last season.
Dhooghe gets to step into a larger role at Arizona State, where he'll likely be leaned on heavily to produce points. Wisconsin is a program that consistently recruits NHL-caliber talent, and the byproduct of doing that is sometimes younger players will squeeze out more experienced players like Dhooghe, so they'll look for roles elsewhere.
F: Matt Tugnutt, Providence
Tugnutt has been a consistent point producer at every single level. He scored in the CCHL, he scored once he arrived at Sacred Heart, and I'm betting he'll be a go-to scorer for Nate Leaman at Providence in what will be his only season as a Friar.
Tugnutt, who is undrafted, is surely looking to leverage a breakout season with a more nationally prominent program into an NHL contract this spring.
The Ontario native had 30 points in 31 games for Sacred Heart last season, and in total over three seasons with SHU, he scored 30 goals and added 42 assists.
There weren't many other players in the transfer portal this offseason who had a resume the caliber of Tugnutt's, at least from a goal-scoring perspective.
F: Todd Burgess, Minnesota State
Personally, I think Burgess is a stud, he's just been offset by injuries since his freshman season. He's skilled enough that the Ottawa Senators took him in the fourth round of the NHL Draft a few seasons ago, and in his last year of junior hockey with Fairbanks in the NAHL, he had 95 points in 60 games.
If Burgess can stay healthy, the change of scenery will do him good. Plus, he's walking onto a Minnesota State roster that should still be loaded in the WCHA.
Burgess is here mostly for his breakout potential, but while the ceiling is high, it's also possible he can't find his rhythm and he settles into the same general point totals he had while he was at RPI. If that's the case, I think Josh Latta has the potential to be a big scorer for UMass Lowell and Mick Messner, who is heading to Merrimack from Wisconsin, is also stepping into a situation where he'll be in a more important role and looked upon to provide points. So maybe one of them should be on the list instead?
If nothing else, Burgess is playing for his professional future. You combine that with a high ceiling, and he's playing for an NHL contract, so I'm expecting to see Burgess' best year as a college player this season.
Forward Honorable Mention: Mick Messner (Merrimack), Josh Latta (UMass Lowell), Steven Jandric (Denver), Charlie Combs (Michigan State)
D: Nolan McElhaney, Long Island
If McElhaney can stay healthy, he's a homerun for LIU head coach Brett Riley.
He missed all of last season (his freshman year) at UNH after undergoing ACL surgery and he was limited to just seven games in the USHL in 2018-19.
However, he has good size (6-foot-3) and he can jump into the play and score from the blue line. In his final season at Cushing Academy, he totaled 47 points (13 goals, 34 assists) in 32 games.
Health is the big question here. If he can't stay in the lineup, he obviously won't make a huge impact for the Sharks. But if he can stay healthy, despite being a defenseman, he has a chance to be one of their top scorers.
He's not a grad transfer, but I'm almost certain he'll be able to play right away, so we'll include him on the list.
D: Seamus Donohue, St. Cloud State
Donohue was overlooked as one of the more consistent defensemen in the WCHA while he was at Michigan Tech.
Last season he contributed 17 points, but more importantly, he appeared in 39 games. In three seasons, Donohue appeared in 117 games and played big minutes as well.
Offensively he scored seven goals and had 48 assists, but he was a very solid two-way defender for the Huskies and should immediately slide into a similar top-four role for St. Cloud State
G: Robbie Beydoun, Wisconsin
Beydoun is headed to Madison as a grad transfer, and he'll have a chance to lock down the starting role immediately. Beydoun, who began his career at Michigan Tech, will be competing with Daniel Lebedeff for playing time with Jack Berry graduating this past spring.
Beydoun didn't play much at MTU last season (5 games) but he was very good when he did play, posting a 2.32 GAA and .919 save percentage. Moreover, when he played 12 games as a sophomore in 2018-19, he posted a 1.98 GAA and .931 save percentage. He was just a victim of circumstance last season, losing the starting role to Matt Jurusik, who took a stranglehold on the position and never relented.
Beydoun's track record of success goes back to his time in the USHL, where he played three seasons and had a save percentage at or approaching .920 in two of those years.
Goaltender Honorable Mention: Jake Kucharski (AIC), Garrett Metcalf (LIU), Jaxson Stauber (Providence)